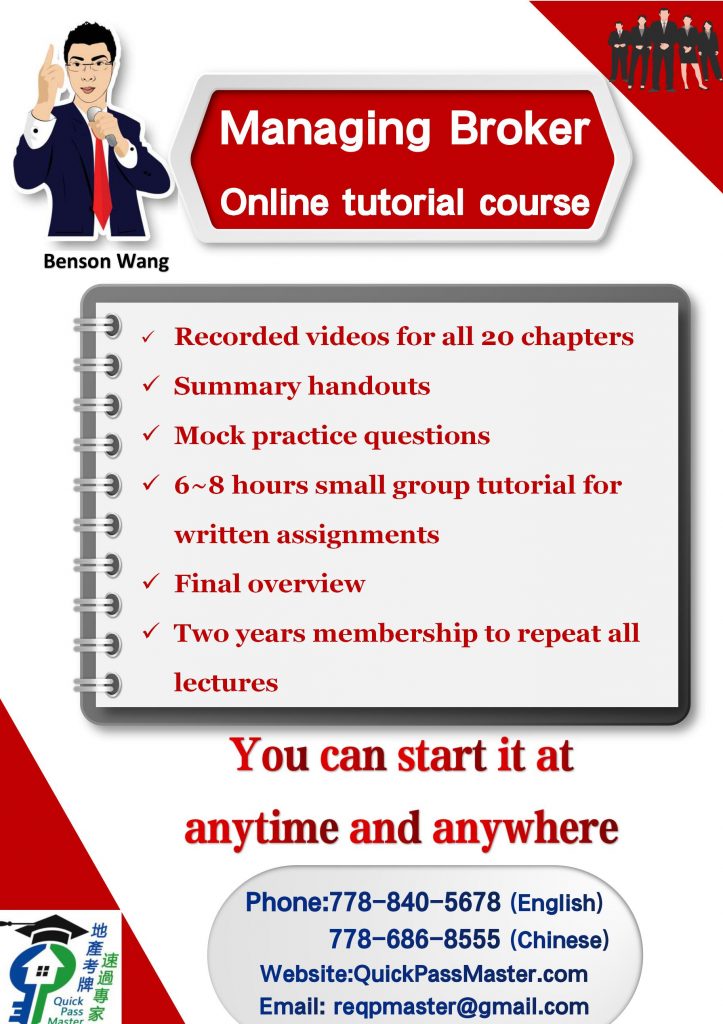 Get Help Passing the UBC Broker Licensing Course from Quick Pass Master
---
Do you have at least two years' experience as a realtor and are looking to move into brokering, either as an Associate Broker or Managing Broker? Quick Pass Master School can help make it happen – and quick!
Our school is designed specifically to condense down the materials provided by the Broker's Business Planning and Financial Management Licensing Course we administer  on behalf of the Real Estate Council of British Columbia (RECBC), allowing you to learn all the essentials at a greatly accelerated pace.  Depending on your level of skill and commitment, you could have all the information you need to pass the final exam in just a few weeks!
That is why Quick Pass Master is such a great option.
We provide you with:
Skilled Staff with Real-World Experience:  Just like our founder, all our instructors are highly successful professionals from the British Columbia real estate industry.  We teach you genuine real-world tactics, not just theoretical ideas from a book.
Condensed Custom Learning Materials:  All our learning aids are self-created, designed to minimize the amount of reading you must do.  We utilize a multimedia philosophy, presenting information in a variety of formats to speed up learning.
English Tutoring:  Many prospective licensees don't realize that there is an English Proficiency portion of their exam which must be passed successfully.  If you are an ESL student, or just need help with your language skills, our tutors can help.
Money-Back Guarantee:  Our school has an exam passing rate of over 95%.  We are so certain you'll be able to pass your Broker exams after attending Quick Pass Master that we offer a money-back guarantee to all students who follow our Five Guidelines of Success but still fail to pass within a year.
Still Not Convinced?  Try A Free Class!
Quick Pass Master is your best choice for passing your Associate or Managing Broker exams and moving on towards running your own brokerage.  If you want to see us in action first, that's no problem.  All you need to do is ask us and we'll be happy to let you audit a class before deciding.
For more information on class times and places, check out our schedule of convenient classes, or just contact us directly with your questions!