(Updated Apr 26, 2022)
Quick Pass Master's BC Real Estate Trading Course helps students pass the exam to be a licensed real estate agent in British Columbia. A career as a REALTOR® can be highly lucrative and fulfilling. Many people have achieved a six figure income as a real estate agent over the past decade in Vancouver.
Since inception, Quick Pass Master has taught thousands of students, which includes many high ranking and well known real estate agents in town.
A career as a real estate agent has always been highly rewarding financially. There have been many success stories in the industry over the past decade. Given strong demand for housing in Vancouver, transaction volumes are expected to be strong for many years to come. Are you ready for a career that can propel your income into the six digit territory?
Quick Pass Master's BC Real Estate Trading Services Licensing Course helps students registered at the University of British Columbia's Business School get their license by passing the exam. This course is mandatory for anyone wanting to be REALTOR® in British Columbia.
Completion of the BC Real Estate Trading Services Licensing Course and passing the exam is mandatory to be a licensed real estate agent in BC. With the real estate license, you can provide the following services:
Residential real estate trading
Commercial real estate trading
Real estate development pre-sale
Sale of business
Other functions (consult with the author)
Course Outline & Schedule
Format: Pre-recorded course videos, covering all 26 chapters
Live Video Classes: Live video sessions will be held to provide extra instruction and Q&A on select chapters involving complex mathematical calculations (see below)
Extra Assistance: Access to instructor through phone, Zoom video conference, email by appointment
Final Exam Review:

Review conducted through live Online Classes (video conference) with Q&A session
Online Final Mock Exam to simulate real exam

Format:

Online video course

Duration: 6 months
Price:

$650 for all course videos + final exam review + extra assistance
$850 for live online classes + all course videos 

+ final exam review + extra assistance
Fundamental of Laws
Real Estate Services Act 
Estates & Interest in Land
Title Registration
Professional Liability of Licensees
Commercial & Residential Tenancy
Strata Properties and Cooperatives
Financial Statement (Live Session)
Professional Ethics
Law of Contract 
Contracts of RE transactions
Law of Agency
Introduction to Mortgage Finance (Live Session)
Interest Rates and Mortgages (Live Session)
Law of Mortgage
Mortgage Analysis (Live Session)
Mortgage Underwriting & Qualification
Local Government Act
Property Tax
Building Design and Construction
Appraisal (Live Session)
Direct Comparison & Cost Approach (Live Session)
Income or Investment Approach of Appraisal
From contract to Completion(Live Session)
Marketing
Technology
Licensing Process - How to Get the Licence to be a Real Estate Agent
In order to become a real estate agent in British Columbia, you would need to do the following:
1. Register for the Real Estate Agent from the UBC Sauder School of Business
There are no pre-requisite admission requirements to taking the long-distance real estate trading course from the UBC Sauder School of Business. The course is self-study and involves 800 pages of reading and there are no instructors to help you.
You must also pass the English language proficiency requirement to be able to register for the exam.
2. Pass the Final Exam to Complete the Course
Take a multiple choice exam. You are given 3 hours for the exam and must have answer 70% of the questions to pass. You may choose to take a paper exam held twice a year, or electronic exam, held twice per weekday.
3. Join a Real Estate Brokerage & Complete Applied Practice Courses
After you successfully passed your real estate trading course, you will need to obtain a criminal record check and then apply to join a real estate brokerage. Meanwhile, you will complete an Applied Practice Course that has four parts. The course you to complete online components, face-to-face classroom time and field assignments while working at the brokerage.
4. Receive Licence to be a Real Estate Agent
Once you are hired by a brokerage and completed the applied practice courses, you can receive an official licence.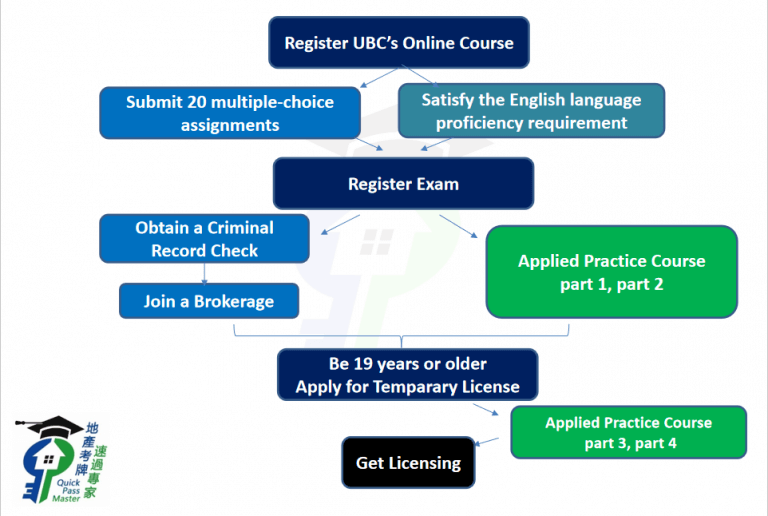 Pre-Requisites
To apply for licensing in British Columbia you must satisfy one of the following employment criteria proving that you are eligible to work in Canada:
Be a Canadian citizen
Be of Permanent Resident status
Hold a valid work permit / visa
Be of Landed Immigrant status
Quick Pass Master
WHY CHOOSE

Learn Quickly and Efficiently
Scrap the 800-page textbook and go for our study notes instead. Save time and energy.

In-Person Support and Help
What's a better way to learn than to get real help from real people? Don't get stuck again.

Real Industry Professionals
Our courses are led by Benson Wang, an award winning real estate licensee who has more than 20 real estate related certificates. Battle tested veteran in the industry.
Let's Get in Touch!
Contact Us
If you have any questions, please call us at 778-686-8555, email us at c7786868555@gmail.com or contact us below.