We Summarized Everything to Know About the UBC Real Estate Exams – Checklist 2023
When exam day starts to approach, you'll need more than just hours of study to be prepared to take your UBC Real Estate Exam. On this page, you will find a comprehensive list of everything you need to know to be ready for the big day.
Exam Day Checklist – What to Bring
A positive attitude is one of most important keys to your success. Maintaining steady focus on your goal will help you achieve excellent results in the real estate industry.
To be properly prepared for examination day, this list of items is required. Please bring the following with you:
A facemask (this is to be worn when entering and leaving the facility as well as during the examination). It is important to note that facemasks are mandatory. Under no circumstances will there be any exceptions to this rule.

A valid government photo identification, such as a BC Driver's License, passport, etc. (

see next section on ID requirements

)

Your examination admission ticket with a recent & valid passport photo attached (photo taken within 30 days)
Though not mandatory, it is recommended that you bring the following items to your examination:
An eraser

A financial calculator

A second calculator as a backup or calculator batteries

Earplugs

A standard ruler

A bottle of water with resealable container
Exam Day Checklist – What NOT to Bring
Several items are prohibited in the examination centre. These include:
Any electronic device with the exception of a calculator
Devices that are strictly prohibited for use in the examination centre include cameras, digital cameras, pinhole cameras, video cameras, digital video cameras, pagers, beepers, cellular phones, personal data assistants, any listening device, laptop computers, netbooks, tablets, iPads, iPhones, iPods, digital music players, pen recorders, and digital or smart watches. Prior to the examination beginning, these items must be turned off and placed underneath your desk until the examination period is finished.
Scrap paper

Pencils, pens, or pencil cases

Calendars

Amortization tables

Course materials

Calculator covers

Hats or headwear of any sort

Digital watches (analog watches are acceptable)

Dictionaries

Alphanumeric or programmable calculators

Food
In addition to these items, it is also strictly forbidden to bring any food inside the examination room. One water bottle is permitted so long as they can be resealed and safely stored beneath your desk.
Though digital watches are not allowed in the examination centre, a timer will be available on the test screen for your use. Analog watches are permitted but must not vibrate or display the ability to make recordings, take photos, store text materials, or send or receive wireless transmissions. If you don't have an appropriate watch, you may ask the exam adjudicator for the amount of time remaining to complete the test. To assist with time management efforts, you can expect the adjudicator to regularly announce the remaining time intervals for the examination.
For more information about the testing process and permitted tools for the examination, you can consult the section titled Examination Information in the Student Handbook.
Identification Requirements – Bring Your ID!
To be permitted to entrance to the examination centre, you must present the required forms of identification. Please be sure to bring with you the following items:
Your examination ticket accompanied with a valid passport photo taken within the previous 30 days

One of the following pieces of identification:

A valid passport with a picture of the candidate; 

A valid BC driver's license (interim driver's licenses are not

acceptable);

An official picture identification card issued by either the Federal Government of Canada, or by one of the provincial governments; OR

An official employment picture identification card issued by either the Federal Government of Canada, or by one of the provincial governments.
If you are unable to display your Examination Admission Ticket and one of the accepted pieces of identification or the picture provided does not clearly identify you, you will not be permitted entrance into the exam room. Under no circumstances will exceptions be made.
Lockers are provided on site for those who need a place to store their belongings during the examination process.
Be Early, Don't Be Late
30 minutes prior to your examination, you are required to check in at the Computerized Examination Centre (CEC). The address for this facility is Room 190-2053 Main Hall in the Henry Angus Building.
Failure to arrive on time will not result in additional time granted at the end of the examination period. Additionally, if you arrive after another student has already left the testing area, entrance will be denied to you.
If you are driving to UBC, note that the closest public parking lot to the Henry Angus building (UBC West Parkade) is still a five minute walk away from the Henry Angus building so do budget in walking time. If you are not familiar with the UBC campus, do budget extra time to find your way through the campus. It is a big campus and it is easy to get lost!
Making Changes to Exam Date
If you find yourself unable to take your examination on the date for which you are registered, you will need to complete and submit a cancellation / change request form. When referring to your Course History, you will note the code DNW which stands for Did Not Write for all accepted change or cancellation of examination requests. Any approved requests for date changes will not count towards attempts at passing the examination.
The approximate amount of time to process cancellation / change request forms is 1-2 days. Once the form has been submitted and approved, you are then eligible to apply for an alternate examination date. All examination date requests must be accompanied by a non-refundable fee of $125 for tests taken at the Computerized Examination Centre and $85 for Regularly Scheduled Exams. These fees are not transferable to new dates.
If you are applying for a change of date or cancellation due to bereavement or personal medical issues, please use the Academic Concession Request Form. Be certain to include the required supporting documentation to process your request.
COVID-Related Issues
In an effort to fight the spread of COVID-19, you will be required to adhere to the following regulations:
The wearing of face masks
Face masks must be worn when entering and leaving the examination centre as well as during the examination itself. Failure to abide by this rule will result in refused admittance to the examination facility.
Adherence to appropriate social distancing
In all areas of the examination centre including bathrooms, waiting rooms, hallways, and the examination hall itself, you are required to maintain a distance of 2 m from other students.
Completion of a COVID-19 assessment
Within 1-2 days of your examination date, you will be sent a COVID-19 self-assessment questionnaire. You must complete and return this form via email.
Request a cancellation if experiencing common COVID-19 symptoms
Should you be suffering from any of the symptoms typically associated with COVID-19, you are required to submit a change / cancellation form and to reschedule your examination at a more appropriate time. Among the symptoms that you should look for are:
Fever

Chills

Cough

Shortness of breath

Pneumonia

Sore throat

Upper respiratory distress or infection

Sore throat

Pain when swallowing

Runny nose

Headache

Muscle soreness

Fatigue

Loss of appetite

Gastrointestinal distress
If you arrive for your examination bearing any of these symptoms, you will not be permitted to take your exam.
Request a cancellation if you or any member of your residence has been mandated to self-isolate.

If anyone within your residence or you yourself have been outside Canada or have been mandated to self-isolate, you must submit a form to request a change or cancellation of your examination date.

Request a cancellation if you are in a high risk group or care for someone who is at risk.

If you are responsible for the care of someone who is at risk or suffering from COVID-19 or you yourself are in a high risk category, you must request a change of date or cancellation of your examination.
Results After the Exam
After the examination scores have been recorded, you can view your results online by clicking on the tab "Exam Results." This can be found on the page entitled "Exam Info" on the welcome page of the Course Resources site.
Examinations that were completely comprised of multiple choice questions will have test results uploaded to this site in approximately three weeks from the test date. Any examinations involving written sections will have available test results in six weeks' time.
Under no circumstances will test results be given via phone or email or in person.
Before any test results are accessible to you, all of your outstanding fees must be paid in full.
What if I Pass?
You've passed your BC real estate licensing exam! It's time to celebrate.
The next step to becoming a licensed real estate agent in BC is submitting your application to the Real Estate Council of British Columbia. For more information on how to get started with this process, you can visit RECBC's licensing guide. This online tool will walk you through each step to successfully completing and submitting your application.
What if I Fail?
Didn't quite make the mark? That's okay! You can try again.
To re-take the examination, you must wait a minimum of 90 days from your original test date. You should note that if the second examination attempt results in an unsuccessful score, it is mandatory for you to re-enroll in the preparatory course for this examination.
If you suspect your failing score may have been due to a computer or marking error, you can request to have your examination marked again. This must be done within 90 days of your examination date and costs $75. Applications for re-marking can be submitted through the Course Resources website.
If you are having trouble, you may want to consider an exam prep course from Quick Pass Master. Our students have a really high pass rate and our classes will help you pass quickly and painlessly. We have helped thousands of students in the lower mainland.
Where Are Exams Held?
Exams are held at UBC Henry Angus building. See map below for location.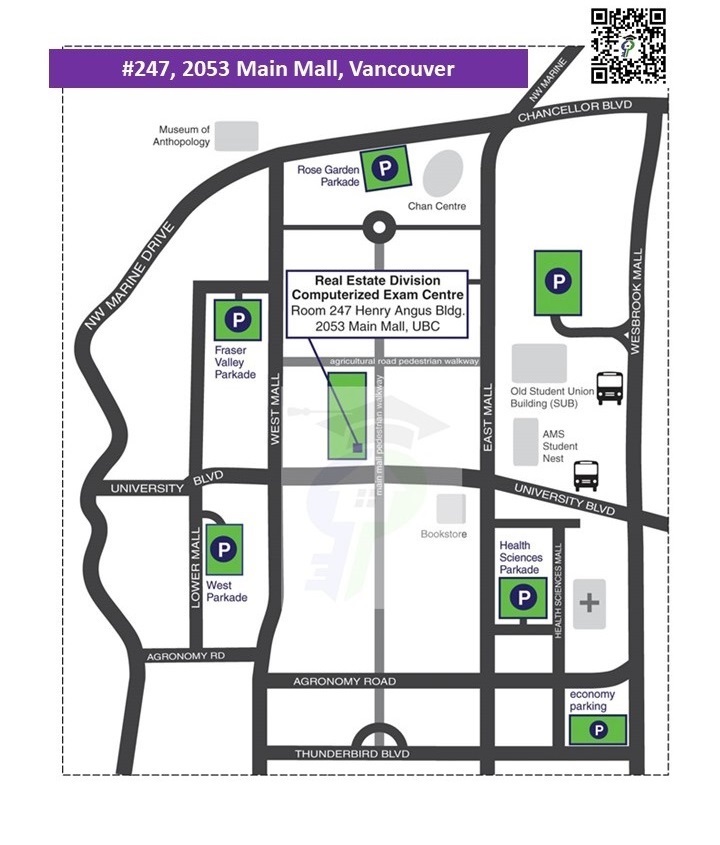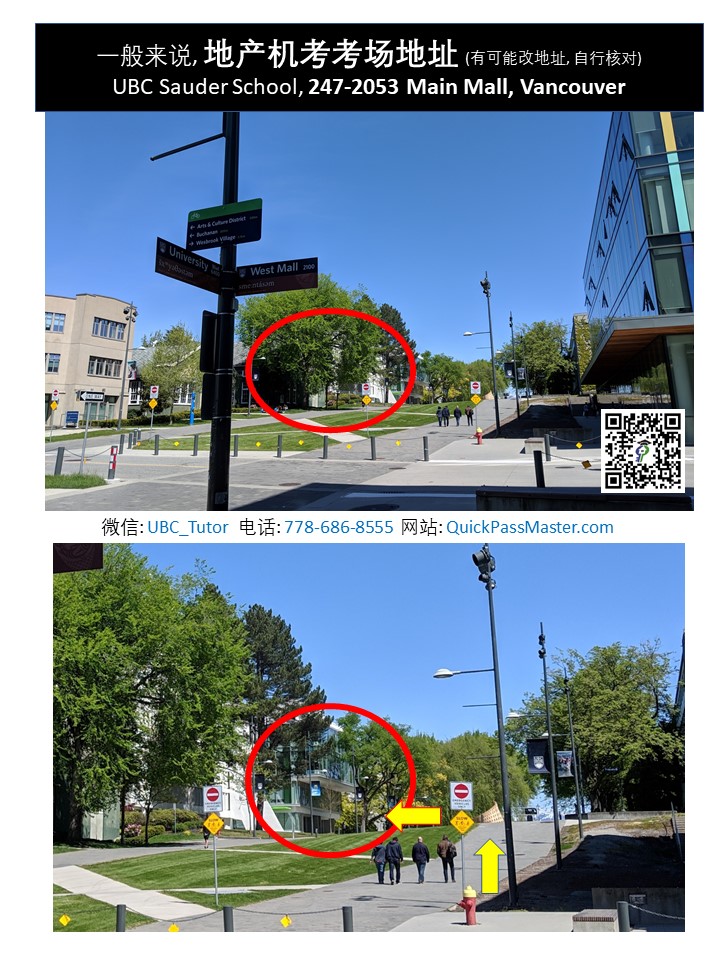 Final Remarks
Working as a real estate agent is a career marked by great reward and personal satisfaction. All that stands between you and your dream job is the completion of your licensing examination. Let Quick Pass Master Courses guide you towards success!